I am now offering the entire line of Crosman guns that I support with smooth main tubes.

That's the CO2 line (2240, 2250 and 2260) and the pumper line (1322, 1377, P1322, P1377 and 2289).

Q: What do you mean by marked vs smooth?

A: Crosman ships their main tubes with deep engraving on the side, commonly called "lawyer lettering". It typically contains the model #, caliber and a legal release disclaimer (shoot safely, etc, etc). Smooth tubes are devoid of all that. They look like unfinished pieces of steel (with, of course, the proper dimensions and all holes drilled, tapped, etc).

Optionally, they can be powder coated, too.

All the smooth tubes with the exception of the factory-shipped, 2240-length (2300S and T) are more expensive due to me having to work them myself.

All tubes ship mirror-shine polished like the four photos immediately below.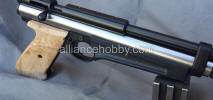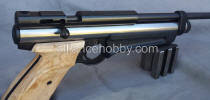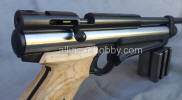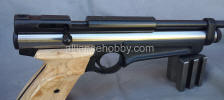 Smooth, Polished 2250 Main Tube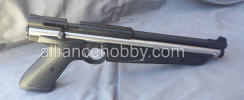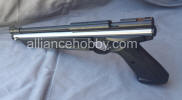 Smooth, Polished 1377 / 1322 Main Tube

Smooth CO2 Tubes in Brass Powder

Smooth 2300T Tube in Copper Vein Powder

Smooth 2300T Tube in Copper Vein Powder