Smooth Wood Grips Now Available
For Crosman 2240, 2250, 2300S, 2300T, 2300KT, 2400KT, 1322, 1377, P1322, P1377, SSP 250, Marauder Pistol and others with the standard pistol frame.
I now have in stock a large inventory of Solid Wood Black Walnut Grips. These are the trigger frame grips only. I am still working on the forearms for the 13xx, etc. The trigger frame grips will fit, but the forearms are still in progress. As often mentioned, these are natural wood with varying grain patterns. No two grips will be the same (the milling is the same, they're the exact same shape, but the grains and shades will vary).
These grips are professionally milled with fantastic fitment and checkering.
Two styles available - Slim and Full.
The slim grips are an exact replica of the 2240 plastic grips.
The full grips extend over the safety, as shown.
You have your choice of unstained or stained plus semi-gloss polyurethane topcoat (all the photos below show the semi-gloss poly). If you don't want the poly, please let me know.
I have three stains in stock - Red Oak, Black Cherry and Weathered Gray. Not much of a difference between the Oak and Cherry stains. The gray is surprisingly nice. I bought it on a whim, but it turned out great. If you want a stain not listed, let me know and I'll get it for you.
Also available is the very rich looking unstained with topcoat only. Nice genuine Walnut color.
All grips include stainless steel screws, too.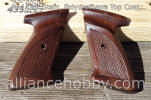 Red Oak Stained Grips with Polyurethane Top Coat





Weathered Gray Grips + Poly Top Coat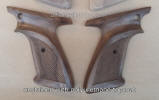 Black Cherry Grips + Poly Top Coat | Unstained Full Style with a Poly Top Coat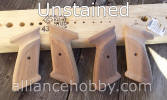 Unstained Slim Style, no Top Coat (bare wood) | Unstained Full Style with Slim Comparison