This listing is for a JT 90g AirSource cylinder (compatible with most applications previously requiring an 88g cylinder) that has a check valve installed on one end with accompanying 1/8" NPT male quick-connect foster fitting.

This is a true refillable cylinder, allowing you the ability to disconnect the bulk gas source after filling the cylinder. However, the cylinder must be installed onto your product before filling with gas. After it is filled, you must deplete it through using your gun, by dry firing or target practice.
Again, it CANNOT be filled, then installed. It must be installed first, charged, then depleted before you can disconnect the cylinder.
The male fitting is that found on many paintball applications and is the same as on the Benjamin HPA Hand Pump (and most other hand pumps).
Take note of the extra length and bulk of the check valve and male fitting. Ensure that it will fit your application or that you can modify your application around the cylinder.
The cylinder has been tested to 1500psi. As such, it is suitable for CO2. Use HPA at your peril.
Having said that, the seller assumes no liability for injury, death or destruction during the use of the product. Purchase and use of the product absolves the seller from any liability, express or implied. You have been warned.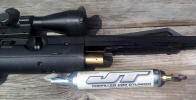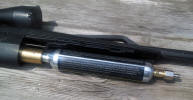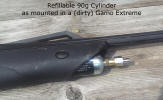 Old style with separate valve and nipple. No longer shipping.

New style with integrated check valve. This is what is currently shipping.
Notice how much shorter it is!


The manufacturer changed the wall thickness on the cylinders a couple years ago. Now, I have to build up
material with a welder, then machine it clean. There will be some artifacts visible, as shown above.