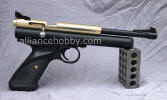 Incredibly milled, incredibly finished solid brass breech. Includes solid brass breech plug, brass set screws, brass rear screw.
Your choice of bolt and handle:
Blued Steel Bolt + Handle
Brass Bolt + Brass Handle (handle not shown) (+$20)
Stainless Bolt + Handle (+$20)
Optionally available is the Milled Rear Sight.
Breech has standard dovetails for scope mounting. Supports the LPA MIM sight, too.
This is not a "hidden screw" breech so it will fit on the pumpers and does not require a special hammer.