Complete Teardown Magnetic Bit Kit with the three hex sizes you need (0.050", 1/16" and 5/64"), a Square #2 (for the grip frame), a wide gunsmith slotted (for the rear sight) and #1 and #2 Phillips for the grips (as found on some models). This one driver contains all parts to completely teardown a normal Crosman model.
You have your choice of short hex bits, long hex bits or BOTH. You have your choice of one actual driver (the red handled assembly) OR as many as you need, so you don't need to swap bits.
The bits are mostly (all?) made in USA. The driver is imported.
Also available is a dedicated #2 Square Driver. It's an expensive Made in USA tool that works really well.
Also available: Precision Eyeglass Hex Drivers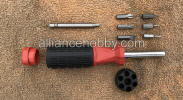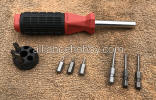 Order as many handles as you need, so you don't have to swap bits.
Short, or long, or both hex bits available.




Handle storage for the longer #2 Square, or extra bits.
In summary, the normal kit includes:
One Driver Handle
One 0.050" Hex Bit
One 1/16" Hex Bit
One 5/64" Hex Bit
One #2 Square Bit
One PH1 Phillips
One PH2 Phillips
One Wide Slotted
Optionally available:
Extra Driver Handles
Extra Hex Bits (long, short or both, you pick)
Dedicated #2 Square Driver