Upper Decks with Normal Barrels are here.
When you buy a 2240, 2250, P1322, P1377, 1322 or 1377 you get a plastic breech and standard length barrel.
This listing is the Upper Deck kit with a genuine Lothar Walther barrel. Max length is 14.5". Can be cut 'n' crowned to any length under that, though.
My Upper Deck Kits include everything you need to convert to the steel breech and longer barrel. You can also swap calibers with this kit. Have a 2240 and want to go .177? Done. Have a 1322 and want it to be a 1377? Done.
Anyhow, on a 2240/2250, the kit is the steel breech and longer barrel.




2240 / 2250 kit shown (14" barrel displayed)
On the pumpers, it's the steel breech, longer barrel, 2289 barrel band (required) and the fiber optic front sight.
On the pumpers, you don't *need* the 2289 band, but you'll have to drill out the plastic band (and you're going to break it). The sight is optional if you are using a scope, etc. If this is still your choice, just select the 2240 kit instead.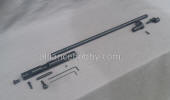 1322 / 1377 kit shown (14" barrel dispalyed)
The steel breeches don't come with a rear sight. I make some, though, available optionally in the listing.
Also optionally available is the stainless steel bolt. Other photo.
The 2240 comes stock with a 7.5" barrel. The 2250 comes with a stock 14" barrel.
The pumpers come stock with a 10" barrel.
Common choices for the 2240 are 10", 12" and 14". Anything longer and it's too muzzle-heavy.
Common choices for the pumpers are 12" and 14".
Know that the longer barrels are actually for other guns. They 100% fit, but you may or may not have set screw divots on the top of the barrel. It's the price you pay for having longer barrels. If you need to know specifics, email me.