I offer various Crosman valves.

I have the standard brass valve that ships with and is compatible with the 2240, 2250, 2260 (and their .177 variants).

I have a power valve for those same guns (more velocity and power per shot due to an enlarged air reservoir). Caution! Also uses more CO2 per shot.

And I also have the 13xx aluminum valves that ship in the 1377, 1322, 2289, etc.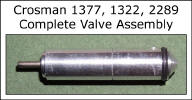 2240 Standard & Power Valves. Right photo is the standard pumper valve.