Style A
These brakes are 7075 Aircraft Aluminum.
They will fit any of the 7/16" OD barrels, which means they'll fit the 2240, 2250, 2260, 2300 series and 2400 series. They'll also fit 1322, 1377, P1322 and P1377 guns fitted with longer barrels.
These do not deaden the sound, they are for looks only.
Style A, pictured here, does not use a front sight post, so you'll have to be using a scope with this one.
You have your option of leaving it polished aluminum (as shown) or it can be powder coated to one of my many available colors.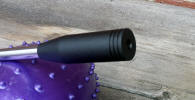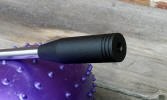 These photos show the brakes powdered in Black Wrinkle. Dozens of colors are available.