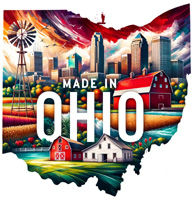 I don't even know what to say here except holy crap are these awesome. Machined from solid chunks of 6061 plate, I present to you the coolest thing you will ever do to your gun.
Heavy. Beefy. Solid. Like me. You're allergic to plastic. I get it. You can do wood, but you're special. You're high speed and you want heads to turn.
You want what no one else has. What no other seller offers. You need these.
Available as bare aluminum for you to finish however you want, or powder coated to any of my available colors. Available with checkering or plain.
The colors in the dropdown boxes below are what I suggest. Certain powders lay nicer than others. Certain powders are thicker and hide machining marks and fingerprints better than others. I'll have more photos of more colors available as time allows. E-mail me if you want suggestions on colors. I use Eastwood HotCoat powders. You can look at samples on their site for ideas. My Portfolio has some examples, too. The uncoated option will show a lot more tooling marks, but you'll be able to finish them however you like.
Now available Two Toned. I machine the grips as plain and powder coat them. THEN, I machine the checkering. Gives you a wild pattern like this (more photos down below, too).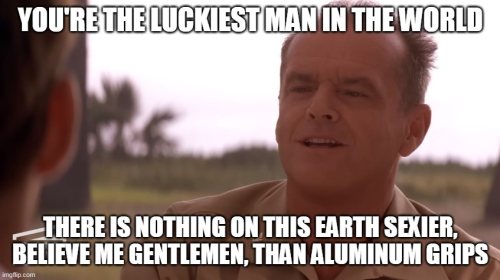 Fits the standard pistol frame. 2240 2250 1377 1322 P1377 P1322 Marauder Pistol, countless others. Forearms fit 1377 1322 P1377 P1322 Drifter.
Had a request for weight comparisons. Here you go.

OEM Plastic grips are:
1.21 oz / 34.4 grams per PAIR (left and right).
Wood grip averages are:
2.42 oz / 65 grams per PAIR (left and right).
Aluminum grips are:
7.92 oz / 224 grams per PAIR (left and right).
Brass grips are:
23.27 oz / 660 grams per PAIR (left and right).
Forearm weights:
Coming soon.
Related Kits:




(displays at bottom)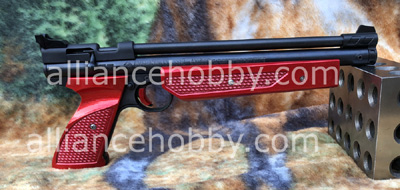 Solid Aluminum, Red Stardust
| | | | |
| --- | --- | --- | --- |
| | | Metallic Red Stardust Checkered Grips | Silver Vein Plain Grips |