The OEM barrel bands have an ugly seam running down the middle of them thanks to the manufacturing process.

I work the bands until they're seamless and then powder coat them. Powdering is recommend over bluing to hide any residual machining marks. Flat Black looks great, but any powder will do.

The "Vein" (Copper and Silver Vein) are even better because they have such thick texture.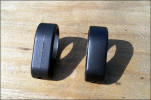 Seamless Flat Black & Seamless Silver Sparkle
(Flat Black Ships By Default)