Alliance Hobby is pleased to introduce a steel power adjuster for the Crosman models listed above.

Previously unavailable on everything except CO2 guns, we now bring you a well-machined option for your Crosman pumper!

The adjuster body is steel, available blued (shown) or with a polished mirror-shine finish
(photos coming soon, but resemble my polished barrels look).

Your thumb wheel is available as OEM plastic, brass or stainless steel (those photos coming soon).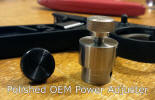 Any of the power adjusters can be fully polished, as shown above.