Alliance Hobby is pleased to introduce a steel power adjuster for the Crosman models listed above.

Previously unavailable on everything except CO2 guns, we now bring you a well-machined option for your Crosman pumper!

The adjuster body is steel, available with a polished mirror-shine finish or cold blued (shown).

Your thumb wheel is available as OEM plastic, brass or stainless steel.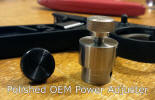 Any of the power adjusters can be fully polished, as shown above.