I have OEM screw kits for the 2240 2250 2260 1322 1377 2289, etc. These are all genuine Crosman parts and are complete rebolt kits for project guns, rebuilds, etc.
I also offer a Stainless Steel kit for the 2240 1322 and 1377. For the 2240, it includes ALL screws in stainless steel. Most are Torx, two are Phillips. For the 1322 1377, you also receive a Stainless Roll Pin.
Finally, I offer a Brass Screw Kit for the 2240 1322 and 1377. It is a partial kit that includes all screws EXCEPT the Front Breech Screw and Valve Retention Screw (2240 only).
Also available is a Shoulder Bolt upgrade to replace the Roll Pin on the 1377, 1322 or 2289.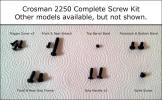 Photos not shown for 1377, 1322, 2289, etc, but kits are available.
Related Kits