Available are barrel bands for the 2240 2250 2260 Benjamin Discovery, 1377 1322 2289.
1377 1322 2289 are black plastic, the rest are blued steel.
Steel bands can be deseamed (no mold seam visible), polished and/or powder coated.
The 2289 band kit can also be used on 1377 and 1322 barrel upgrades when desiring a longer barrel.





Band in the left two photos is compatible with 2240, 2300 series & Benjamin Discovery
Band in right two photos is compatible with 2250/2400KT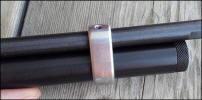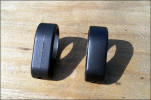 2240 Band shown powdered Silver Base, on the right is a Flat Black Deseamed 2240 Band.


13xx Band on the left, 2289 band on the right (screw is included with 2289 band kit).